Our philosophy at Alternaturf is 'get active' and we encourage every one of all ages and sizes to get outdoors and get fit! This ethos combined with our experience and specialised construction knowledge enables us to meet your sporting requirements and your budget.
Alternaturf has installed a multitude of courts and fields for schools and clubs throughout Queensland and Australia. We specialise in constructing and surfacing an extensive range of sporting facilities –tennis and multipurpose courts; golf greens, tees and driving ranges; football fields; recreational bowling greens; exercise circuits; and bocce courts. Whatever your sport – we're into it!
At Alternaturf, we don't take short-cuts. We pay particular attention to base preparation and drainage to ensure the longevity and on-going performance of your court, field or green, and our surfaces are installed to specification by industry experts. In fact, we are so confident about the integrity of our work that we provide a standard two-year warranty on our installations.
Because of Alternaturf's extensive buying network we are able to suggest the best playing surfaces and equipment available. We supply only high quality Australian made products with long warranties and excellent after-sales support.
ARTIFICIAL TURF
Artificial grass surfacing is highly suited to sporting applications in the tropics as it drains quickly, is cooler to play on than hard courts, and blends harmoniously with landscaped environs. Synthetic turf also suits a range of sports – tennis and multipurpose, including netball, volleyball and basketball; cricket; futsal; lawn bowls; and bocce.
We use only the best Australian made turf from Advanced Polymer Technology and Urban Turf Solutions, both of which have excellent UV stability, stitched in lines, and long warranties. Our turf also meets international standards and is tested to ISO 9001 certification to meet a range of international sporting bodies performance requirements.

Features include:
Cooler to play on than hard courts
Dries quickly, even after heavy rain
Variety of colours, heights and compositions
Harmonises with the environment
Soft on joints, particularly for older players
Estimated wear life of 10 years plus.
ACRYLIC SPORTS SURFACING

If you prefer playing tennis on a hard surface, or you require a dedicated netball or basketball facility, let Alternaturf help you construct or acrylic surface your hard court. Acrylic surfacing suits a range of sports – tennis, basketball, netball and multi-purpose courts, as well as bike paths and commercial floors.
For economy and quality, we use Queensland manufactured Courtpave. Courtpave is specifically developed for concrete and asphalt surfaces, providing necessary grip and texture while maintaining true and even ball bounce for the fastest paced surface. Courtpave boasts excellent life expectancy, slip resistance and UV stability.
Features include:
Ideal for rejuvenating old, damaged courts
Low toxicity, containing no lead, mercury or asbestos
UV inhibitors for improved colour retention
Specially formulated sand provides grip, stability and consistency
Fungicidal additives to reduce mould and algae growth
Estimated wear life of 10 years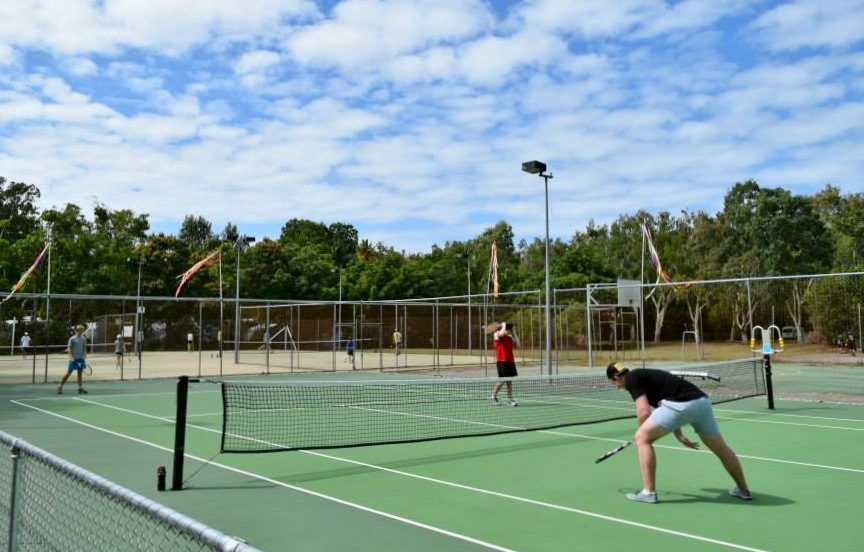 GOLF
Alternaturf loves golf! We started out installing synthetic putting greens and tees for golf clubs 16 years ago and have never looked backed! Alternaturf supplies the full range of golf products including synthetic grass putting greens, driving ranges, tees, fairways and mini-golf facilities.
By employing turf with characteristics like natural grass and a unique base formula that absorbs the impact of shots, our green system allows the ball to check up and roll naturally. Likewise, our 50mm sand and rubber infilled artificial tee allows players to enjoy high performance tees all year round, without altering their swing!
Off the course, we have a synthetic golf turf for every level of ability and every requirement. The non-directional construction of our short pile golf products allows the ball to roll smoothly, while responding to chips and pitches just like real grass. Our range of turf can be contoured to any shape and is complemented by our range of attractive, natural looking fringe grasses. If you want to improve your short game or just have heaps of family fun, an Alternaturf green is the answer!
SPORTS FIELDS
Installing artificial sports fields demands a high level of construction knowledge and precision, and we love the challenge! Alternaturf has the logistical experience and technical expertise to accommodate your specific conditions to ensure that your field has supreme performance characteristics over the entire surface, for the life of your installation.
Alternaturf offers high performance surfacing systems for every code of football. For rugby, soccer and AFL we recommend Advanced Polymer Technology's Ligaturf artificial grass range. Ligaturf grass features smooth filaments infilled with mineral sand and rubber granules to provide a comfortable surface and optimum rolling/rebound properties for football. Ligaturf is designed to minimise maintenance and will retain its shape under the heaviest traffic.
All of our sports-field products have excellent wear resistance qualities and pass the Lisport Abrasion test method required for FIFA and IRB certification.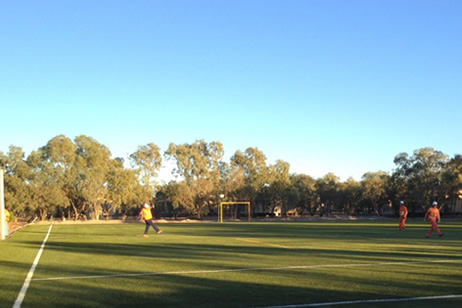 FITNESS & SPORTS EQUIPMENT
Alternaturf invites our local schools and councils to imagine a community where regular exercise is accessible, fun and part of everyday life. With hundreds of outdoor gyms now installed across Australia, the growing popularity of these facilities allows all organisations to make their own positive steps towards improving health and reducing obesity.
We recommend Australian manufactured A-Space for their innovative and extensive range of outdoor fitness equipment and their quality construction. The A-Space fitness range has been developed to provide communities and schools with the means to increase fitness while socialising with others in safe, attractive environments.
Fit for Parks offers a range of broadly accessible items to suit cardio, strength, and mobility needs, while Fun n' Fitness offers an extensive range of static fitness items designed for any age and ability.
For sports equipment, we recommend Queensland manufactured Play Hard products. Play Hard products are engineered to last a life time and built to withstand the toughest conditions. Play Hard has 23 years manufacturing experience and is a supplier to Sydney Olympic Park and the Queensland Tennis Centre. Whatever your sport Play Hard has all your sporting equipment requirements covered!